The supply of iron ore will be further loosened in July, and the price may fluctuate downward.
The price of iron ore stabilized after rising in June, reaching a high of US$221/ton at one time and staying at US$219/ton at the end of the month. The monthly average value rose further.
In the first half of the year, due to Rio Tinto's maintenance and unexpected accidents in domestic mines, the supply of iron ore fell short of expectations, and the port inventory decreased, resulting in prices rising all the way. After the mid-term, steel mills have tightened their production restrictions, and iron ore prices are expected to fluctuate and weaken due to production cuts.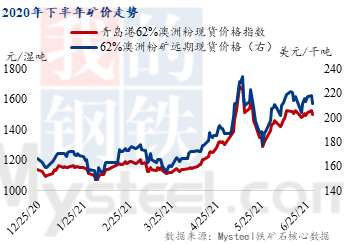 In July, on the supply side, Australia and Brazil have seen fewer major overhauls of berths, shipping has gradually improved, and high ore prices will also stimulate global iron ore production and export enthusiasm; based on the calculation of the shipping schedule, arrivals to ports in July will gradually increase; In terms of domestic mines, with the end of the 100th anniversary of the founding of the party in July, mining companies are expected to accelerate the resumption of production and continue to improve on the supply side. In terms of demand, global steel mills except China remain at a high level of production enthusiasm. With the inoculation of vaccines, overseas epidemics gradually improve, and demand for iron ore will slowly increase.
On the whole, iron ore supply in July was looser than that in June, and iron ore prices were weak.